ON ORDER AND BEING, (WYOMING CRIMEA)
performance, oxbow, and artifact
Banner, Wyoming


Two photographs support an implied thesis on the ontological significance of patterning (in the presence of the ordinary, the living, and the actionary). Without documentation of the performative action, the space between the two images exists only as a conjuring within the mind of the viewer. The body of the Artist is imagined in its effort against and within an axiomatic Earth landscape. This permits an artificial memory of the happening, while artifactual evidence alone recalls the poetic sentiment of twenty-eight days' labor. Simultaneously, this creates a hesitancy in establishing a temporal relationship between the two landscapes, unbinding them from notions of "permanence," "lasting," and "being" in general.

An instinctual action is made extraordinary through scale alone, wherein the repetition of a stone's throw ritualizes the ordinary, and yet remains entirely understated beside the glyphic and terraformic works —neolithic and industrialized— which ornament the American continent. Two sonnets, cast in sediment, enacted as the only logical solution to creating contemporary sculpture, On Order and Being proposes a call to create work; plain, balanced, precedented, (il)logical, and defensible. "To supplant place, and move that which is discrete the shortest meaningful distance; creating an archaeologic-architecture, wherein the invisible implies the profound, and the meaningless mirrors the sublime."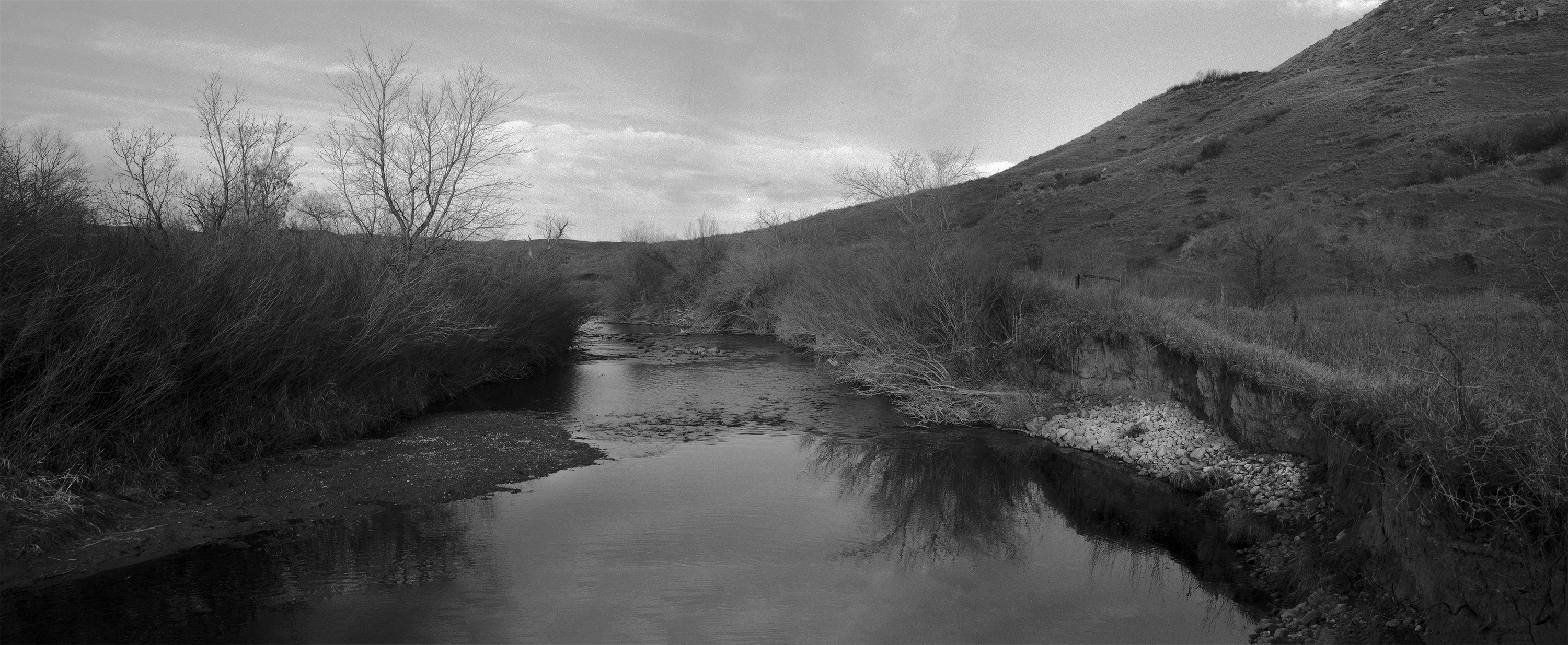 SOUTH KITSAP SUPERBIND
lumber, hardware, paint
20' x 8' x 16'
Belfair, Washington
Participating in a regional tradition of folk architecture, the SOUTH KITSAP SUPERBIND grounds a once-mobile mid-century trailer—an engineered unit for low-cost, autonomous living—into perceived permanence amongst its site; a suggested stasis which double-backs on itself under a plastic skin of Day-Glo orange. This color is borrowed from the local logging industry as a signal for temporary intervention by way of claim gates, roadway flags, and marked trees.

In a self-described work of Industrial Mannerism, the SUPERBIND blurs the relationship between a history of timber extraction, our resource dependent economy, and the old growth forests of the Kitsap Peninsula into a work so specific to its site as to become obtrusive. This hyper-locational dissonance magnifies the nuance of a socio-geological ecosystem at odds with itself—a community sustained via deforestation + yet signaling attempted environmental coexistence. Folk ornament and rough cut beams exist only behind the colored-context of their industrial origin—transforming the handicraft appeal into a rubberized mirage.


HALTED RHYTHM
granite, steel hardware
10' x 10' x 1'

An open loop tracks the movement of a vertical sailing stone. Transplanted from its origin on the desert floor and secured in place using traditional industry hardware, Halted Rhythm brings together an object of folklore with the highway road-cut infrastructure found throughout the Western United States.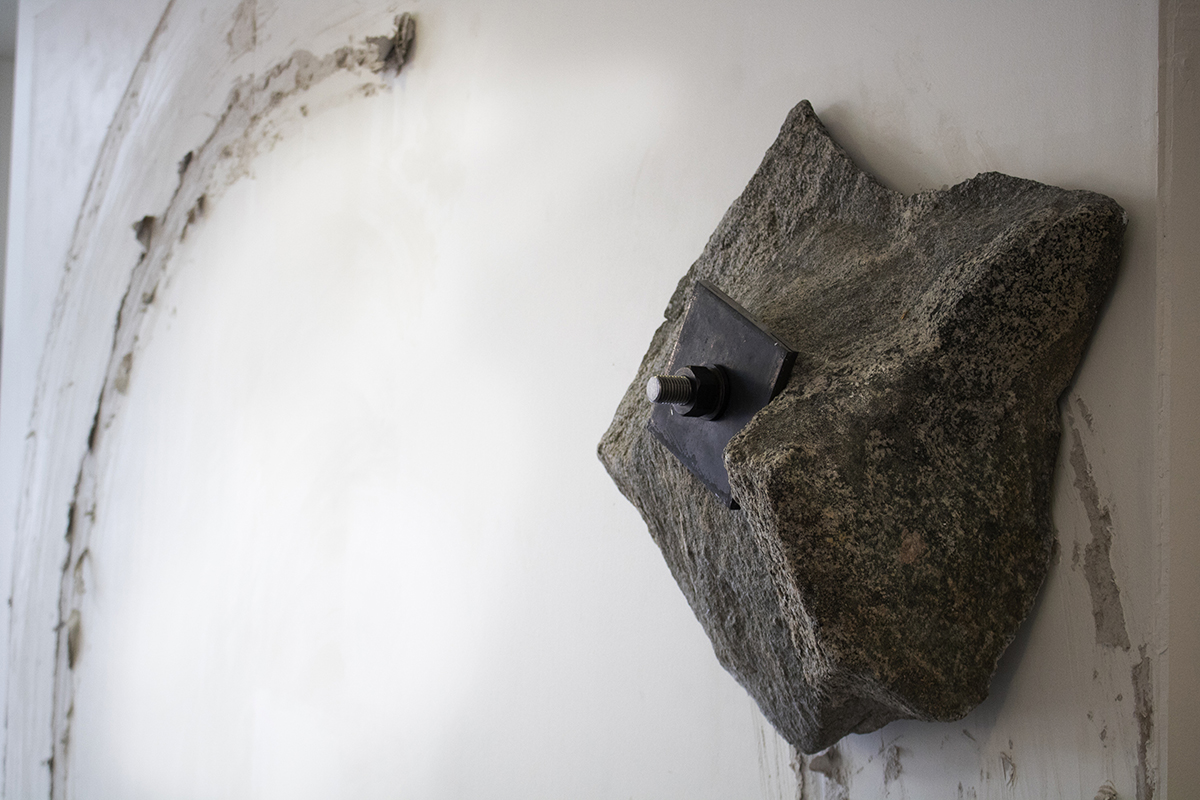 WEEPING WALL
colored pencil on paper
26" x 36"
Dewey, Arizona

The proposed Weeping Wall explores the geologic impacts of extractive industry in the age of the Anthropocene. A large stone of ochre—the earth pigment famously used by early humans—sourced from an open-pit mine, is embedded into the gallery wall, and subjected to a circuitous flow of falling water. As the boulder erodes, the iron-rich pigments stain the white wall, leaving behind artifacts of passing time. The work exists as a geologic hourglass: a mass of earth at odds with gravity and time to create a contemporary landscape painting of dynamism and impermanence.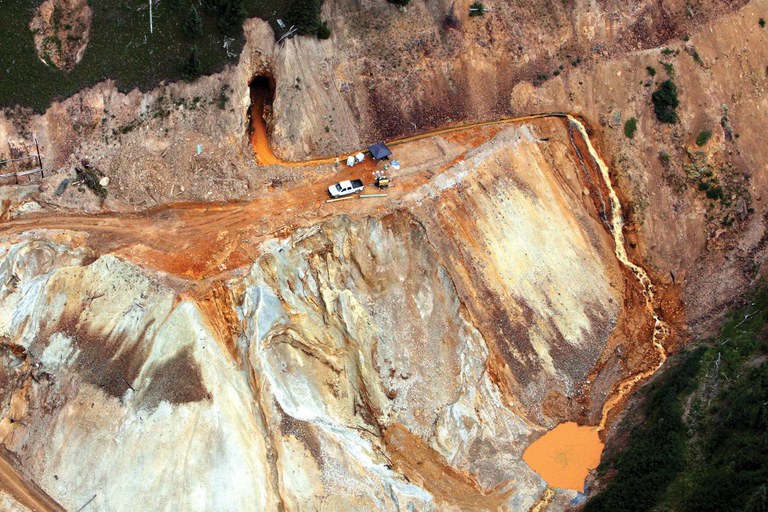 SPLIT ESTATE
granite from public land, plexiglass boxes
each box 30" x 30" x 12"


Public land use is divided. There are those who value its wilderness, and those who desire its value. The Bureau of Land Management defends a need to balance these competing goals: mineral production and environmental protection. This balance encourages commercialized prospecting—industrialized coring of the landscape to locate rare minerals for later extraction— while simultaneously highlighting attempts to maintain wild land.

Split Estate offers this story of division, examining the relationship between production and preservation in an effort to equate that which lies broken with that which remains complete.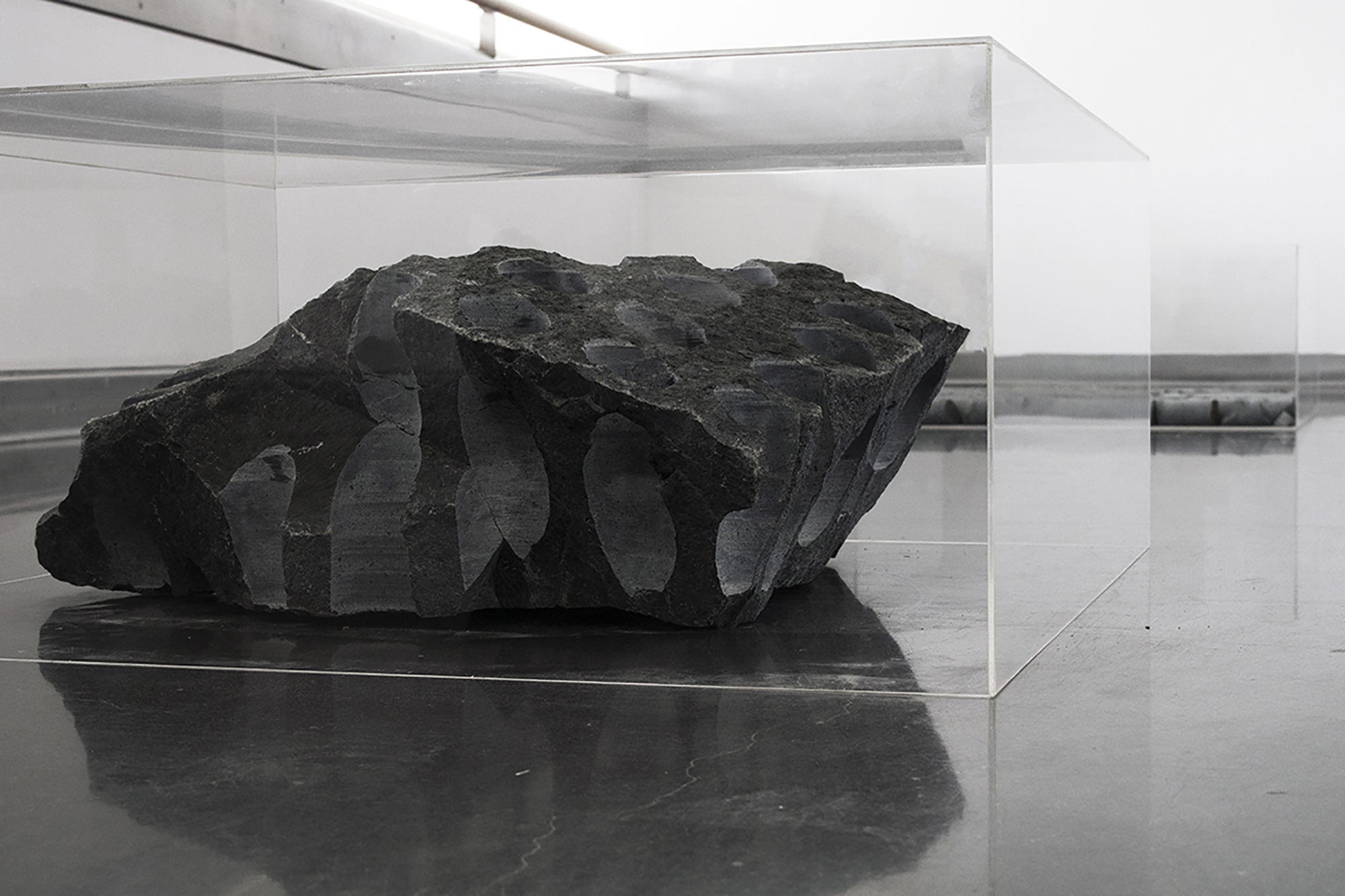 THE GREAT DIVIDE
text from Homestead Acts, homesteader diaries, fine silver, Douglas fir
12' x 4.5' x 4"

Four white pages—trimmed in silver and stretched by parallel lines of steel—form a curtain which bisects a space, dividing here from there. Words sourced from US Government documents and personal journals from travelers are embossed on opposing sides of each sheet; framing the divergent narratives as a pair of words to speak for each singular idea.
MOGOTE SLOPE PUBLIC CLAIM
public land, wooden stakes, polyester acequia liner
75' x 75' x 2'
Antonito, Colorado
Bounded by private property on three sides, the Mogote Slope of Conejos County, Colorado is a fenceless anomaly; a quarter mile peninsula of public land in an ocean of privatized agriculture. Controlled federally, the Bureau of Land Management has partitioned this hillside as wilderness, and yet the rights to the mineral rich soil beneath it have been sold into private domain.

The seventy-five foot target, Mogote Slope Public Claim, explores the paradox of public lands which have been ideologically abstracted, divided and sold. The earth here is valued for its resources, and the desire to obtain them will result in monumental erosion. Existing momentarily as a single breath in the geological timeline of the landscape, this hillside brand serves as regional icon, roadside warning, and environmental critique.

ANTHROPOGENIC MONUMENTS
partially erased Western postcard, mineral core, bronze, ink
3.5" x 5" x 1.5"
The Anthropogenic Monuments series seeks to define and champion distinct moments of geologic impact born from human civilization. The first twelve monuments aim to reconcile the competing goals of environmental protection and mineral extraction happening on American public land. A majestic Western landscape is adorned with bronze and yet partially erased to reveal a core generated from mineral prospecting. An essay on the reverse uses a tone of traditional Transcendentalism to challenge issues of contemporary land use and extractive industry.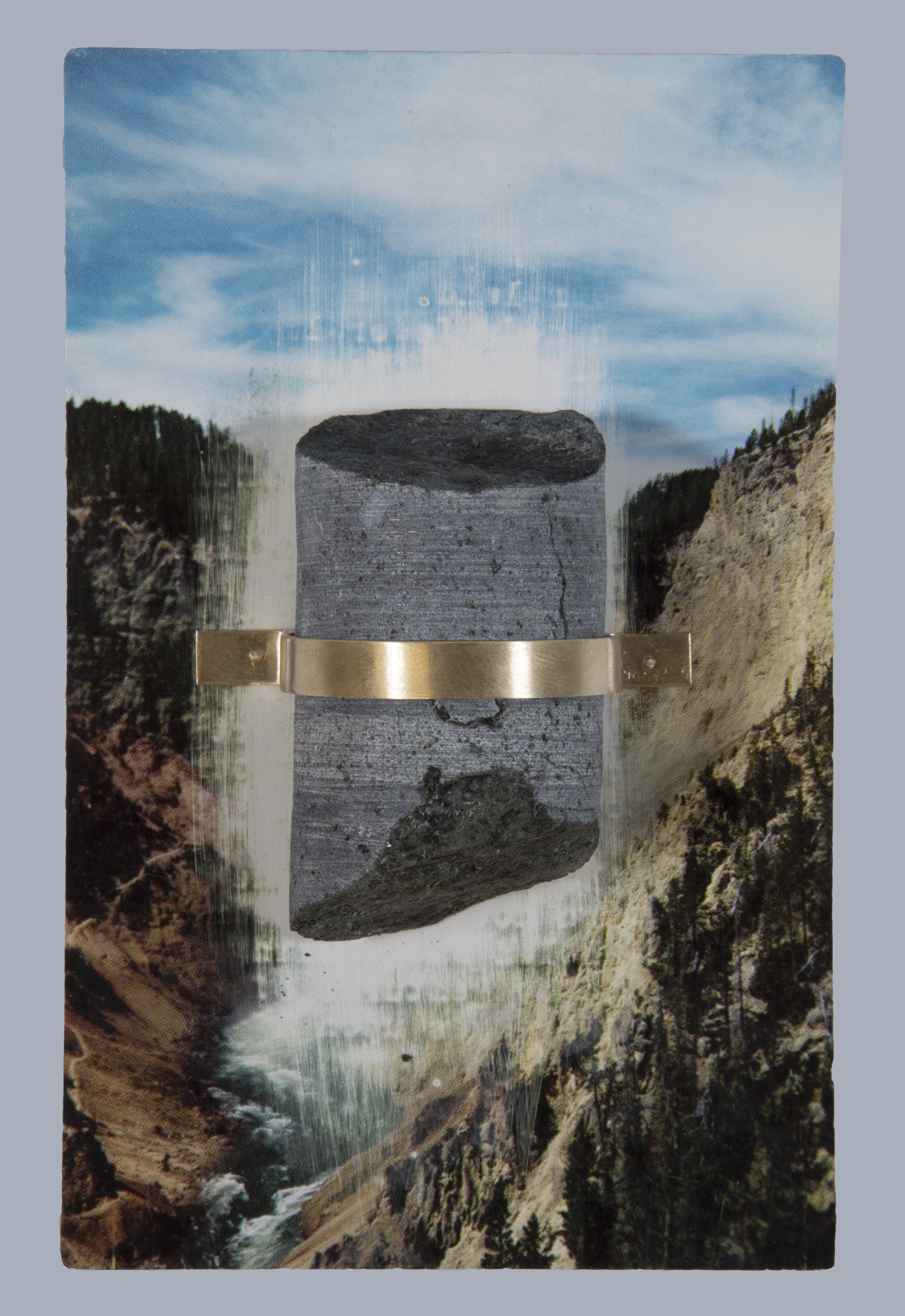 URANIUM DOWSING ROD

copper, nickel
16" x 18" x 6"
The American folk-tradition of using a dowsing rod to "water-witch" — or locate subterranean aquifers — mirrors the contemporary western practice of large-scale uranium extraction in their joint reliance on land-resources. Uranium Dowsing Rod synthesizes these fields, combining elements of a military geiger counter with that of a traditional dowsing rod.
100 YARD TARGET
copper, nickel, leather
3.5" x 5" x 5"
Drawing upon the history of championship rodeo belt buckles, 100 Yard Target speaks to the ethos of the American West. In response to notions of rugged masculinity, control over people and land, and destructive bravado this small target both embraces traditional forms, while sarcastically undermining any perceived reality of the western myth.
RED FLAG WARNING
wool
48" x 72"
Cross-culturally, blankets have long served as functional commodity and ornamental craft. As an object with both utilitarian and aesthetic value, the wool blanket once held great importance within the North American fur trade. Artisans took liberty within their making, embedding information into a blanket's design. Signs and symbols used to tell stories, give directions, and pay homage were disseminated across the west via these trade routes.

Acknowledging this tradition, Red Flag Warning interprets an American fire danger scale—a colored gradient found on roadside signs to dictate the way users interact within a protected landscape—and uses this visual reading to tell a cautionary modern-folk narrative of environmental and cultural warning.